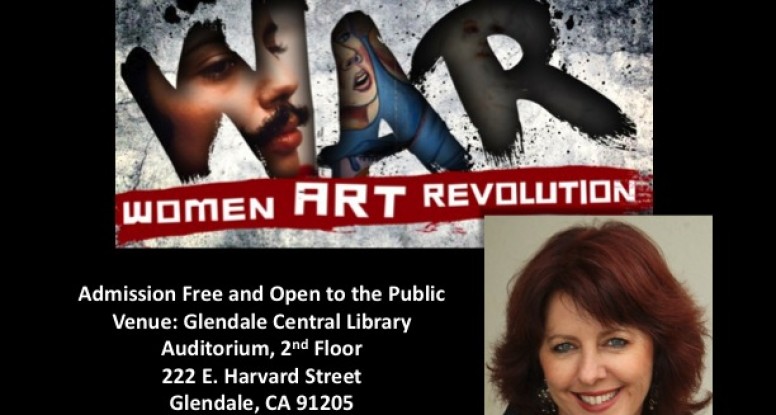 This Wednesday, September 19 at 7:00 pm, I will be leading a short discussion following a screening of "!Women Art Revolution." This award-winning documentary film by Lynn Hershman-Leeson provides a fascinating chronicle through intimate interviews, art, and rarely seen archival film and video footage. "!Women Art Revolution" reveals how the Feminist Art Movement fused free speech and politics to radically transform the art and culture of our times. The film highlights significant – and often outrageous – moments, many of which played out in Southern California. The film was recently named by MOMA NY as one of the three best documentaries of the year (along with Wim Wenders' "Pina" and Werner Herzog's "Into the Abyss"). http://womenartrevolution.com/
The film and discussion will take place Wednesday, September 19, 2012, at 7:00 pm in the Glendale Public Library Auditorium, 222 East Harvard Street, Glendale, CA 91205. Admission is free to the public. Attendees receive 3 hours FREE parking across Harvard Street at The Market Place parking structure with validation at the library's loan desk.
The program is sponsored by The Associates of Brand Library & Art Center and the Glendale Public Library as part of their REEL ART series which features films with a strong voice and perspective on art, artists, and life. Says Teri Deaver, Director of Events, "by pairing screenings with stimulating talks by experts on film and the topics presented, we hope to provoke thought and conversation". Arlene Vidor, president of the Brand Associates states that "this is a great opportunity to switch off the home video stream and DVD player and share a film viewing experience with a like-minded audience". I say, "if you haven't yet seen this film, now's your chance!" I hope to see you there.
-Cheri Gaulke