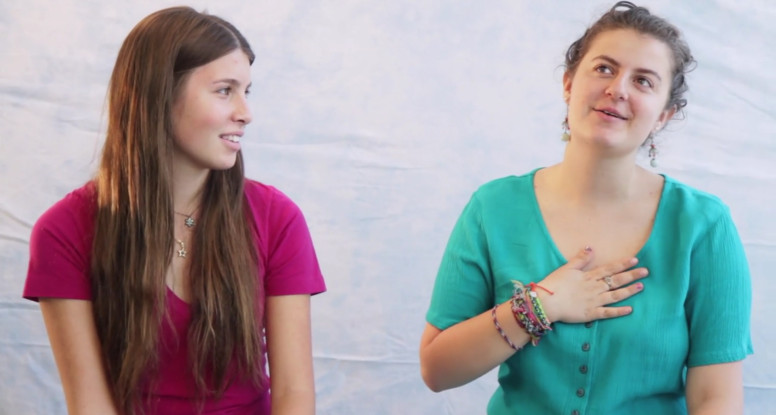 Third Annual ONE Queer Film Fest
Please join me tomorrow when the 3rd Annual ONE Queer Film Fest will screen two short films that I executive produced that also happen to be by my daughters Marka and Xochi Maberry-Gaulke. "This PSA is Gay" was written by Marka and turned into a Claymation by students in my Harvard-Westlake Summer Film Program. "Love Our Families" is a public service announcement created by Xochi and her friend Anjoum Agrama during The Righteous Conversations Project, which brings together Holocaust survivors and teens to make PSAs about contemporary injustices. In addition, Marka and Xochi are featured as subjects in a documentary by Lisa Udelson and Catherine Opie called "Same Difference." There's a link to the trailer below.
There are screenings all day long and we are part of the HERE & NOW: Youth & Family Shorts Series from 1 – 2:30 PM at the REDCAT (under Disney Hall). Tickets are available at http://www.redcat.org/event/one-queer-film-festival and cost $13 in advance and $16 at the door.
The fest is a celebration of the rich cultures and diversity within our LGBT communities.  All proceeds benefit the great work of ONE National Gay & Lesbian Archives, the world's largest LGBT history collection (based right here in LA)!
HERE & NOW: Youth & Family Shorts Series, 1 – 2:30 PM  
Screening followed by panel and Q&A with filmmakers including Cheri Gaulke, Marka and Xochi Maberry-Gaulke.  Panel moderated by James Gilliam, Deputy Director of ACLU Southern California.
Films include:
THIS PSA IS GAY (Miranda Kasher, George Khabbaz, Patric Verrone, Marka Maberry-Gaulke, Albert Zeng) – When a girl wears a rainbow button to school, she discovers that people's words can sting!
THRESHOLDS (Yovani Flores) – An urban tale about pushing barriers in the moments lived between each breath.
TWO BOYS (Victor Bumbalo) – Two recently transplanted New Yorkers, a mother and her sixteen year-old-son, are lugging a Christmas tree through the streets of Los Angeles unaware of what Christmas has in store for them.
LOVE OUR FAMILIES (Anjoum Agrama, Xochi Maberry-Gaulke, Gabe Benjamin) – A Public Service Announcement that looks at the true meaning of family.
SPIRAL TRANSITION (Ewan Duarte) – A compelling, candid, and interwoven documentary exploring the filmmaker's relationship with his mother as he transitions genders.
SAME DIFFERENCE (Lisa Udelson and Catherine Opie) – Among the cries of "What about the children?" during the debate over California's Proposition 8, where were the voices of actual children?
http://www.youtube.com/watch?v=ylh234VWVYY&feature=youtu.be
-Cheri Gaulke