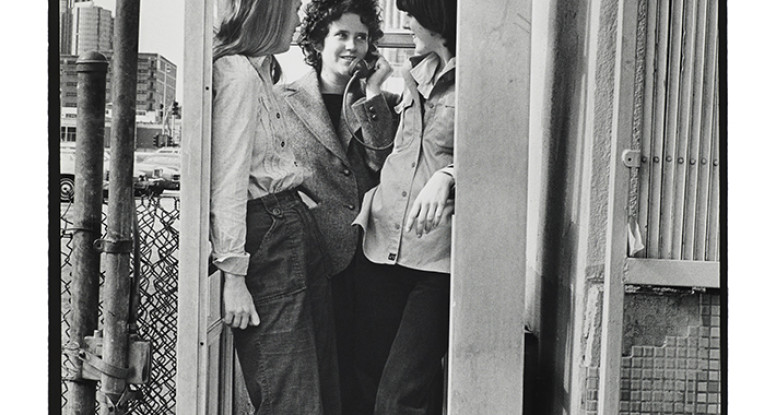 Feminist Art Workers lead tour of Pacific Standard Time exhibition
On Saturday, January 14, at 11 am, I will be leading a special tour of the exhibition Doin' It in Public: Feminism and Art at the Woman's Building at Otis College of Art and Design. The exhibition is part of Pacific Standard Time: Art in L.A. 1945-1980, an initiative of the Getty that explores the birth of the LA art scene. I moved to Los Angeles in 1975 as a young artist to be a part of the feminist art movement and the experience and the times were life-changing. I have two installations at the Otis exhibition representing two collective performance art groups I cofounded – Feminist Art Workers (1976-) and Sisters Of Survival (1981-). Saturday's tour features Feminist Art Workers and I will be joined by my collaborator Laurel Klick.
Emerging from the educational programs at the Woman's Building in Los Angeles, Feminist Art Workers incorporated techniques of feminist education into participatory performance structures. We addressed issues of community (Heaven or Hell?), violence against women (This Ain't No Heavy Breathing and Traffic in Women: A Feminist Vehicle), and equal pay for equal work (Bills of Rights). Our performances took place in locations as varied as city streets (Pieta, Afloat), during protest rallies (Draw Your Own Conclusions: Know on 13), in coffee houses, art galleries and museums.
Klick and I will offer insight into this historic art work, the time period, and the Woman's Building, an organization that has had a huge impact on the form and content of contemporary art. We will also have a sneak preview copy of our new 230-page book, Feminist Art Workers: A History, as well as the book, Sisters Of Survival, about the anti-nuclear performance group that I cofounded. Both books will be available for purchase at $20 (SOS) and $25 (FAW) – cash or check only. This is an excellent opportunity to see one of the most interesting Pacific Standard Time exhibitions and hear personal stories from two artists who lived the history.
I hope to see you on Saturday at 11 am at Otis College of Art and Design Gallery, 4500 Lincoln Blvd., Los Angeles, CA 90045. For more info, go to the gallery website: http://otis.edu/public_programs/ben_maltz_gallery/womansbuilding.html. There are all kinds of video interviews and other interesting stuff that can be found there. And it's all free!
Also stay tuned for notice of a private tour of my other Pacific Standard Time installation at LACE in Hollywood, which closes January 29. You can always check my blog for information about what I'm up to and if you sign up you'll receive occasional notices.
Thanks and I hope to see you Saturday!
– Cheri Gaulke