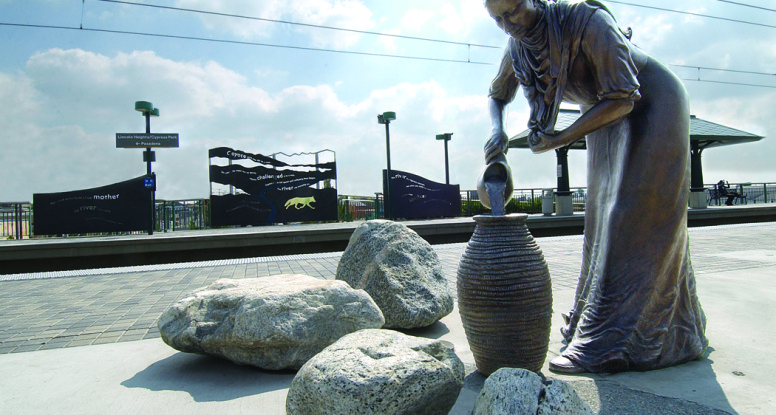 Please join me on Saturday, June 26, 2010, 10 am for a very special event — Art Along the Gold Line — a docent and artist-led tour along the MTA's Pasadena Gold Line. The tour is a fundraiser for the Avenue 50 Studio, a non-profit art gallery in Highland Park. www.avenue50studio.com
Join us as we artistically bridge East Los and Pasadena on the Metro Gold Line. Meet the artists of the Metro stations who will describe their artwork in the community. We will have refreshments as we travel along plus lunch will be provided by Home Girl Café.
The tour will be led by Vanessa Acosta, Board Member and owner of Cultural Arts Tours and Workshops with participating artists:
John Valadez — Memorial Park Station
Southwest Museum — MTA Docent
Cheri Gaulke — Cypress Park/Lincoln Heights Station
Little Tokyo Station — MTA Docent
Mariachi Plaza — MTA Docent
Paul Botello — Indiana Station
Maravilla Station — Jose Lopez
Clement Hanami — East LA Civic Center
Ulises Diaz — Atlantic Station
Michael Amescua — Union Station
Chinatown Station — MTA Docent
Donation:  $40 per person includes snacks and lunch. Please make checks payable to "Avenue 50 Studio."
We will meet at the Pasadena Senior Center, 85 East Holly Street, Pasadena, CA 91103 for registration between 9:30 to 9:55 am. We will walk to the Memorial Station and begin the tour there. Refreshments will be served at the Senior Center. Parking is available at the Marriott for about $6 all day on Raymond, across from Memorial Park, next to the Armory Center for the Arts and Heritage Wine.
So if you've ever wanted to know more about the art on the Gold Line, this tour is for you! Maybe I'll see you there.