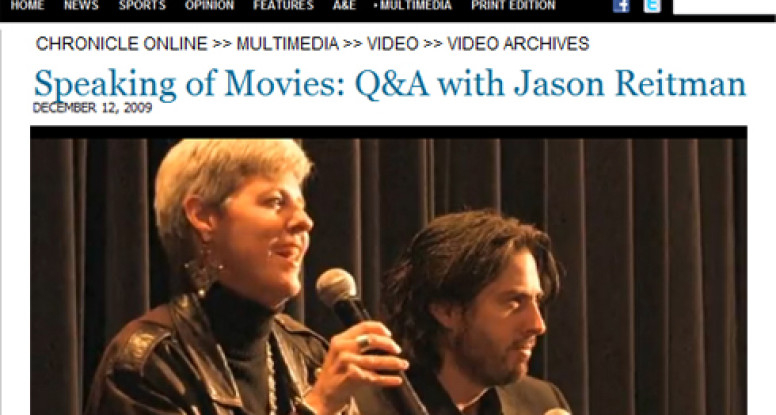 In December 2009, I co-hosted (with my colleague and collaborator Kevin O'Malley) another event in our series Speaking of Movies with Jason Reitman. We created the series with Jason, our former student from the Harvard-Westlake class of 1995, to interview interesting people from the film industry in front of a student audience. With the recent release of Up in the Air, we decided to turn the tables and have Jason be our guest. We screened the film at Paramount Studios for an audience of Harvard-Westlake students, parents and alumni. The event "sold out" in 2 hours! After the screening, I interviewed Reitman and O'Malley videotaped.
It was exciting to see the film after having visited the set in St. Louis with my daughters. We had seen some of the scenes being shot and between takes Jason entertained us by showing us scenes on his laptop that he'd already edited. There was a particular scene we watched being filmed in which George Clooney's character must fire the man he most admires, the head of the airlines played by Sam Elliott. The scene wasn't in the movie! I ran up to Jason afterwards and asked, "Where was that scene?" and he informed me it will be on the DVD. So look for that.
The award-winning Harvard-Westlake school newspaper, The Chronicle, has posted the interview. I've seen Jason do a few Q and A's now and I'm really impressed with him as a public speaker. He is charming, funny, and insightful. Check out his analysis of why we like (I do!) the TV show 24. Enjoy!
Gaulke Interviews Reitman from hw chronicle on Vimeo.