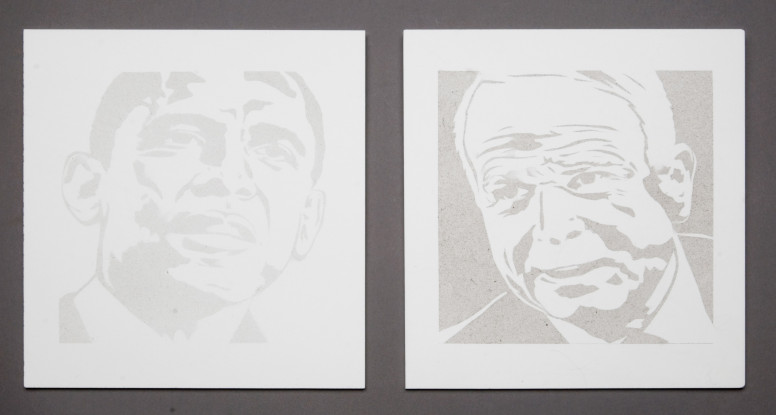 I would like to invite you to check out this exhibition I organized at Harvard-Westlake School where I am now the Visual Arts Department Chair.
Over a period of five weekdays, nationally acclaimed artist Kim Abeles was dumpster diving at Harvard-Westlake's upper school to collect trash without the general knowledge of students, faculty or staff. She then cleaned, ironed, and assembled the trash in her studio and transformed it into new artwork. Abeles environmental art, as well as works that were collaborations with Harvard-Westlake students, will be featured in the Feldman-Horn Gallery in an exhibition called Nature Studies, from Feb. 9 – March 6. The gallery is open 8 a.m. – 4 p.m. school days and on Saturdays from 11 a.m. – 4 p.m.
Please join us for two public events on Wednesday, Feb. 18. At 9:35 a.m., Abeles will do a gallery talk especially for students and staff, and she conducts another talk at 6 p.m. especially for parents and the public, which will be followed by a reception until 9 p.m.
Abeles, currently a professor of art at the California State University, Northridge, earned national recognition with her smog series in which she literally invented a way to "paint" with particulate matter. The Harvard-Westlake exhibit will feature her complete collection of presidential smog plates. Other large-scale environmentally themed works on display include The Leaf Lounge (All the World's Leaves), in which hundreds of fabric leaves were created at five times the normal size in which Gallery visitors are encouraged to lounge!
Background
Each year, the Harvard-Westlake Visual Arts Department hosts a professional artist's exhibition in Feldman-Horn Gallery. Inspired by HW's Green Initiative, Visual Arts Dept. Chair Cheri Gaulke contacted Kim Abeles, who is known for work that addresses environmental issues and often involves communities. Abeles began working with teachers and students to develop projects that involve the skill sets taught within the classes. Students in various departments examined the relationship between humans and the world around them, particularly our consumption-driven culture. Video students recorded Abeles as she dumpster-dove and carried garbage from the trash bins to her car. Math classes evaluated the typical consumption and waste at Harvard-Westlake based on the collected materials, like the amount of water left in discarded water bottles. Photography students investigated the relationship between the sun's ultraviolet rays and skin tones. Sculpture students made "smog catchers" by using leaves from campus trees. Environmental-science students collected water labels and documented the trash each of them generates over two days. The environmental club and women's studies students made connections between the environment and Native American spiritual teachings. Journalism students documented the entire process in the school newspaper.
In the spring, a catalog of the exhibition will be published that documents and examines the role of art in education and how art can be a tool for social change around issues such as the environmental crisis. The exhibition and catalog are made possible through the generous support of Harvard-Westlake Trustee Janis Feldman Horn.
For more information, contact Harvard-Westlake Visual Art Department Chair Cheri Gaulke at (818) 487-6596 or cgaulke@hw.com.