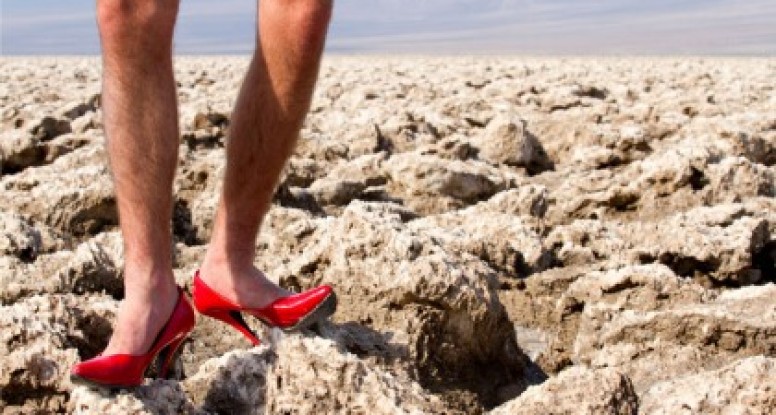 Contemporary Editions is a fundraising project for Breaking in Two: Provocative Images of Motherhood. Contemporary Editions are limited edition prints and sculpture created as a unique way for collectors to advocate the value of women artists, mothers and artist mothers. On the occasion of this exhibition, these editions will be offered for a tax-deductible purchase of $350 each. To order my print and see other offerings go to http://breakingintwo.wordpress.com/.
I contributed a limited edition print to this project and I'm really happy with how it looks. The colors are rich and it's on gorgeous rag paper. The image is from a video project in which I had men and women in red high heels traipsing through natural environments such as streams, sand, dry brush, lava fields, and geo-thermal sites. This particular image was shot in Death Valley at Devil's Golf Course.
Breaking in Two: Provocative Visions of Motherhood will feature a multi-cultural group of four generations, nationally and internationally recognized artist-mothers selected to represent the multi-faceted and changing realities of motherhood. The exhibition explores the intimate experience of the artist as mother, and the evolving image and place of the mother, which underwent huge transformations during the Women's Movement of the late '60s and '70s. The exhibition curated by Bruria Finkel will be featured in a documentary by Sabine Sighicelli.
The participating artists include: Kim Abeles, Lita Albuquerque, Eleanor Antin, Michele Asselin, Jo Ann Callis, Joyce Dallal, Bruria Finkel, Magaret Garcia, Cheri Gaulke, Tierney Gearon, Judithe Hernandez, Channa Horwitz, Katherine Jacobi, Mary Kelly, Margaret Lazzari, Andrea Liss, M.A.M.A., Kim McCarty, Mary Linda Moss, Mother Art, Sandra Mueller, Pearls of Wisdom: End the Violence, Renee Petropoulos, Astrid Preston, Alison Saar, Betye Saar, Sola Agustsson Saar, Lezley Saar, Reva Santo, Sylvia Sher, Amy Shimshon-Santo, Elena Mary Siff, Doni Silver Simons, Linda Vallejo, June Wayne, Ruth Weisberg, Kim Yasuda and Shuang Zhang.
Breaking in Two is part of Pacific Standard Time: Art in L.A. 1945-1980, a series of exhibitions initiated by the Getty that tell the story of the birth of the L.A. art scene. This exhibition will take place February 11 – April 14, 2012 at Arena 1 Gallery, 3026 Airport Avenue, Santa Monica, CA 90405. Stay tuned for more info about this show as the date gets closer.