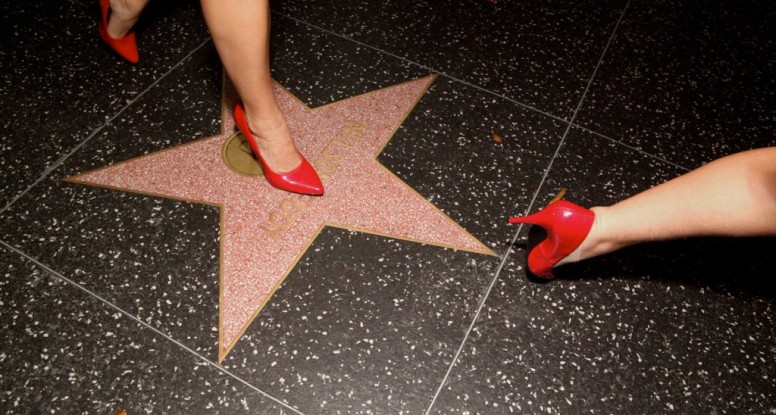 Peep Totter Fly: Cheri Gaulke at LACE
Here are a few shots from my performance Peep Totter Fly at LACE on September 27. Performers in white activated my wall of red high heels by putting them on and walking on Hollywood Boulevard. When they returned to the gallery they offered the shoes to the audience and all mayhem was unleashed as people tried on the red high heels. I've got shoes in women's sizes 5-16 which means they fit men sized 6.5-17.5 or so. The wall of shoes is meant to be interactive and viewers are allowed to wear the shoes while in the gallery. I have found that men really get a kick out of this as they have been curious about what it feels like but have never had a chance to try on shoes that would fit them.
So I invite anyone and everyone to come check out the installation which will be open through January 29, 2012. The installation is more than a wall of high heels. It has a beautiful video of high-heeled legs walking through natural environments – slogging through streams, lavafields, beaches, geo-thermal sites and against dramatic vistas. It was shot in locations as varied as Los Angeles, Death Valley and Iceland. There's also a lovely sound score that makes the video quite mesmerizing. For more info and the hours of LACE, go to http://www.losangelesgoeslive.org/. All photos in this post are by Paul Redmond.
– Cheri Gaulke