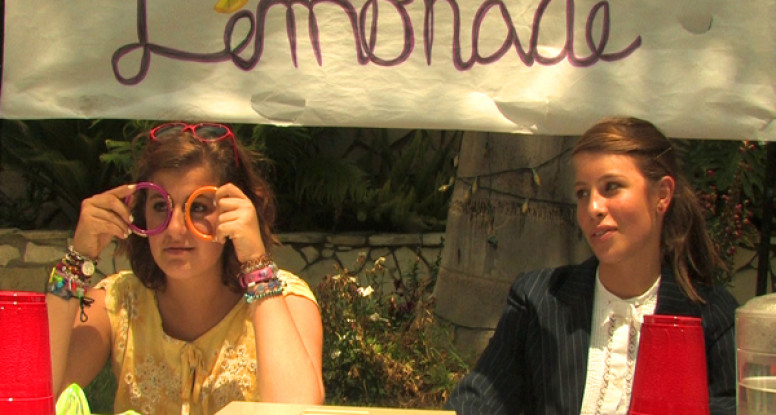 Los Angeles Film Festival features Cheri Gaulke's student films
Saturday, June 19, 10 am will be the first of two screening dates for the Future Filmmaker Showcase, an annual feature of the Los Angeles Film Festival. Each year student films are selected from international submissions and I'm proud to say Harvard-Westlake student films have been represented every year since we started entering. This year we have a record four films in the High School Program #1. They are The Stand, Still Life, A Gum's Life and Dem Shoes. The first three were created in my Summer Film Camp and the last one was created by seniors in my advanced video art class, all at Harvard-Westlake School. I am especially proud of The Stand, which co-stars my daughter Xochi in a comedic role. She has been getting great feedback on her performance from film festival judges as luminary as composer Randy Newman. My other daughter, Marka, is the assistant director.
Many thanks goes to Hebe Tabachnik who puts together a great program every year including a luncheon for the youth filmmakers and this year, one-on-one guidance sessions with industry professionals. Here's how the Los Angeles Film Festival describes High School Program #1:
Through comedy, music, and documentary, these stories illustrate how teens (and some unfortunate pieces of gum) face love, death, commerce, depression, and even sexual harassment.  Candid, poignant, and comedic, this collection gives us a peek into the challenges of their everyday teen existence. Program running time is 84 minutes. Tickets are $5 and can be purchased online at http://www.lafilmfest.com/2010/ or at the box office.
High School Program #1, June 19, 10 am and June 26, 3 pm
L.A. LIVE Regal Cinema 12, downtown Los Angeles
1000 West Olympic Boulevard, Los Angeles, CA (213) 763-6070
Here's more about my students' films. A Gum's Life (director Sophia Tran) combines stop-motion animation and live action to delve into a day in the life of a piece of chewing gum. Still Life (director Lee Feldman) is a silent-film love story gone awry when one lover gets stuck in the film frame and is separated from her love. Dem Shoes (directors Lucas Casso and Adam Maltz) is a hip-hop don't stop music video celebration of one boy's amazing collection of shoes. The Stand (director Olivia Chuba) is a mockumentary about trying to beat the competition. Two old friends – a free spirit and a control freak – set up a lemonade stand. Will their friendship survive when a boy moves his competing business next door? Come find out the answer to this and other questions tomorrow or next Saturday!