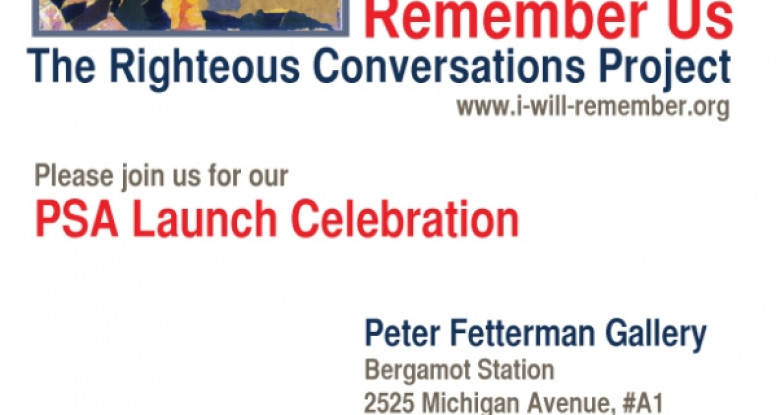 Celebrating an Artistic Collaboration between Holocaust Survivors and Teens
Join us tonight, November 15, 6:30-8:30 pm, at a Launch Celebration for Public Service Announcements from The Righteous Conversations Project. I am the artistic director for this wonderful cross-generational project that empowers teens to use media to speak out about injustices in our world. My daughter Xochi Maberrry-Gaulke participated in our pilot workshop and created one of the PSAs  with her friend Anjoum Agrama. We are currently developing new workshops for this coming summer which will be offered through Harvard-Westlake's summer program.Tonight's event takes place at Peter Fetterman Gallery, Bergamot Station, 2525 Michigan Avenue, #A1, Santa Monica, CA 90404, 310. 453-6463. Appetizers and drinks will be served. Kindly RSVP to 310. 656-2806 or samara@remember-us.org.
-Cheri Gaulke
More information:
On Tuesday, November 15th the Righteous Conversations Project will be screening two new media PSA's created by Los Angeles Teens and Holocaust Survivors in an extraordinary intergenerational workshop taught by Cheri Gaulke that took place at Harvard-Westlake last year with participation by students from Harvard-Westlake, Crossroads, and Marlborough Schools.
The Righteous Conversations project, a pilot program that connects Holocaust survivors and teens in a dialogue of remembrance and social conscience, was founded last year at Harvard-Westlake School by five students with support from Remember Us, a non-profit organization that invites personal connection to the name of one child who perished in the Holocaust in the hope that young people will honor their memory by acting, in their names, for good in the world today.
Over a one week period, students worked in partnership with the survivors, using the narratives of survivors and the nature of their personal histories as a source of inspiration for creating new media messages about a contemporary issue that resonated with the workshop participants.
The screening of the media messages and a short film documentary of the project will take place at the Peter Fetterman Gallery, one of the pioneer tenants at Bergamot Station best known for housing a vast collection of classic 20th Century photography specializing in humanist photography. Featured at the event will be a premiere exhibition of photographs of the participants of Righteous Conversations beautifully captured by Paul Ryan, an artist who has documented California history and culture for decades. paulryanphotography.com
In this photographic exhibit, Ryan explores the meaning and nuance of these historic partnerships between young Californians and elder survivors, who were themselves young at the time of the Holocaust. These photographs commemorate the momentous encounter between teens and the last generation of survivors while celebrating the intersection of memory and social consciousness.
Following the screenings, the media messages will be gifted by the teens and survivors to organizations that work to advance the causes highlighted in each of the new media messages. Organizations who will be gifted at this event will be COLAGE, Hebrew Union College Institute for Judaism and Sexual Orientation, and  Uri L'Tzedek,
For further information please contact Samara Hutman at samara@remember-us.org or by phone at (310) 656-2806