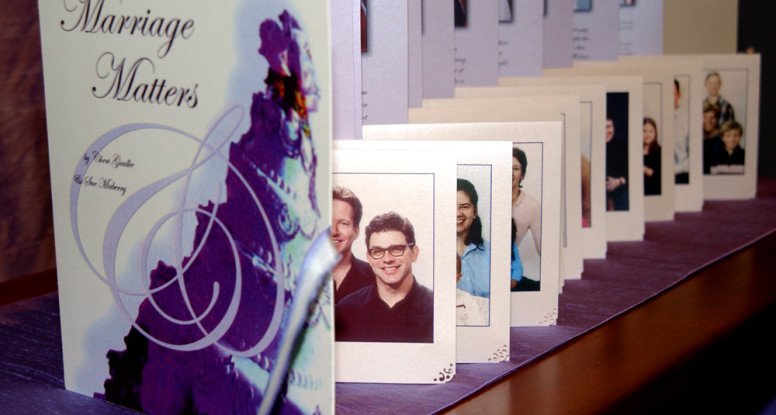 The book "Marriage Matters" is "Out There"
Marriage Matters, the artists' book that Sue Maberry and I created in 2005, is included in an exhibition called Out There that opens tonight.  http://laaa.org/out_there_2010/index.html
FOR IMMEDIATE RELEASE: Los Angeles Art Association (LAAA) and the City of West Hollywood are proud to announce the third annual Out There exhibition celebrating the LGBT experience during West Hollywood's Pride Month festivities. This effort commemorates West Hollywood's lasting commitment to raising public awareness and appreciation of the talents and abilities of all artists.
The Out There exhibition, opening at Gallery 825 on June 11, is an all-media exhibition juried by Hillary Metz of Blythe Projects Los Angeles. Ms. Metz's past commitment to the LGBT Community via the Santa Fe Human Rights Alliance and the 2009 Create Equality artwalk in Culver City poises her as the ideal curator to jury this important exhibition. Out There celebrates and acknowledges the special opportunities that West Hollywood has provided for creative individuals over the past 25 years. Out There is made possible by the City of West Hollywood Arts Grant Program and the Arts and Cultural Affairs Commission. Out There runs June 11-17 at Gallery 825 (with special Sunday hours on June 13 after the Pride Parade).
Featured Artists: Brandy Eve Allen, Dori Atlantis, Eric Allen Carter, Joanne Chase-Mattillo, Ching Ching Cheng, YaYa Chou, Richard Chow, Raul de la Torre, Bryan Fair, Steve Fujimoto, Alisa Gabrielle, Martin Gantman, Cheri Gaulke and Sue Maberry, Shizuko Greenblatt, Niku Kashef, Siri Kaur, Shelley Kommers, Jonas Kulikauskas, Linda Kunik, William Mackenzie-Smith, Steven Moses, Gustavo Muñoz, Bob Poe, Mei Xian Qiu, Glynnis Reed, Gwen Samuels, Mark Schoening, Steve Seleska, Thomas Skene, Alix Soubiran, Eugenie Spirito, Michael Salvatore Tierney, Daena Title, Dan Vanclapp and Art Weeks.
Reception: Friday, June 11, 6 to 9 pm and after the Pride Parade on June 13. Show runs through June 17.
Admission: Free 
Where: Gallery 825, 825 N. La Cienega Boulevard, Los Angeles, CA 90069  
For more information call 310.652.8272 or e-mail gallery825@laaa.org
Marriage Matters was also pictured and discussed in a review of the Love Never Dies exhibition in Minneapolis.  It's a great review about a very interesting exhibition of work about the "gay marriage" issue. Check it out. http://www.downtownjournal.com/index.php?&story=15466&page=65&category=93