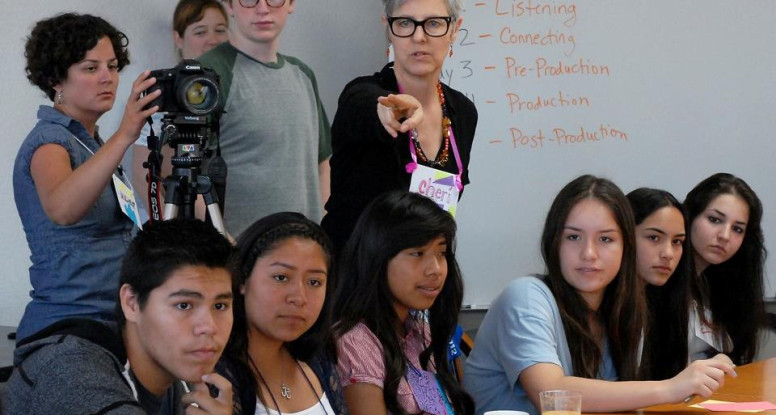 Righteous Conversations Project featured in the Jewish Journal
Photo: Cheri Gaulke facilitates a discussion during a Righteous Conversations Project workshop at Harvard-Westlake School, summer 2012.
http://www.jewishjournal.com/graduation/article/students_survivors_engage_in_righteous_conversations
This article by Danielle Berrin in the Jewish Journal has been a year in the making. Berrin first visited our Righteous Conversations Project workshop at Harvard-Westlake last summer. This year's workshop starts next week with 32 teen participants, 8 Holocaust survivors, 6 master teachers, 6 teaching assistants and additional RCP support staff. My how we have grown! I anticipate another profound experience for all resulting in a new crop of social-change-making public service announcements.
Below I have excerpted part of the article that talks about my role as Artistic Director. But do check out the whole article. It is very well written and captures the context and motivation for what we do in The Righteous Conversations Project.
From the article:
Cheri Gaulke, the head of Harvard-Westlake's Upper School Visual Arts Department, is the project's artistic director, and she helped secure the space for use. "The whole idea just clicked for me," Gaulke said. "I'm really passionate about teens learning how to use media to affect the world, because that's the world we live in. And teens need to be not just consumers of media, but makers of media. I liked the idea of giving them the tools of advertising to sell an idea, rather than a product."
At every Righteous Conversations workshop, Gaulke teaches an intensive media literacy lesson that, in Hutman's words, shows teens "how to flex their moral conscience and moral outrage through media." In practical terms, it equips them with a media vocabulary to enable them not just to conceive ideas, but also to visualize them.
Where Righteous Conversations departs from most other forms of Holocaust chronicling is in its call to action. It is a model for tikkun that comes directly from the Torah: just as with the recounting of the Exodus story, the act of digging deep into a formative ancestral pain is meant to awaken in future generations the pain of others.
Gaulke, who is not Jewish, said her own daughter, Xochi, had participated in one of the workshops and discovered a profound connection with a survivor, John Gordon, now deceased. "Gordon, who passed away, was sharing how he was liberated and then came to America. He said that for a long time he was 'living in the closet' as a Jew — he was afraid to tell his co-workers that he was Jewish. And as a daughter of lesbians, my daughter really connected with that," Gaulke said. "Individuals come to the universal from the personal, and it's the personal that transforms society."