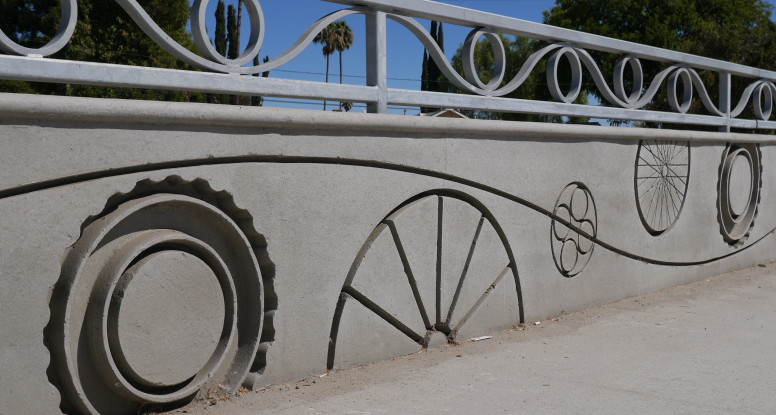 Cheri Gaulke Designs Three Bridges in the San Fernando Valley
In 2003, I was commissioned by the Bridge Improvement Program to create designs for three San Fernando Valley bridges over the Los Angeles River that would be undergoing reconstruction. Now two of the bridges are complete and one is nearing completion. I am delighted to be sharing the design concepts and photographs of the work. The public art project was overseen by Los Angeles' Cultural Affairs Department, Becky Snodgrass, project manager. I approached this project in the same way I approach most every project. I started by doing historical research about the streets and surrounding areas. I wanted to use the opportunity to tell stories about the community that contemporary residents might not know. I discovered some interesting things some of which are expressed in a representative style and others more abstractly.
Tampa Bridge Design, 2012, Los Angeles River, San Fernando Valley
Twenty-four circular medallions with six different designs are embedded in pylons at the four ends of the bridge. Each is a tribute to the indigenous people, plants, animals, birds, and fish of this section of the Los Angeles River. Silhouettes of a hawk, trout, coyote, oak tree, butterfly and cattail stand out against a background of names which form a kind of visual poetry of taxonomy. Porcelain enamel on steel, each medallion is 24" x 24" x 1".
Winnetka Bridge Design, 2012, Los Angeles River, San Fernando Valley
The Winnetka Bridge design is a tribute to Charles Weeks, a visionary and early developer of this area. A founder of Winnetka, Illinois, he came to the San Fernando Valley in 1920 at the invitation of the Chamber of Commerce with a utopian vision of self-sustaining farms. His development was called Charles Weeks Colony. Each medallion has a short text drawn from Weeks' theories which he published in a book called One Acre and Independence. The earth-toned graphics are reminiscent of early 1900s illustrations. The chickens, bees and pear refer to Weeks' formula for a successful farm. The larger panel depicts Weeks and his son surveying the land. Porcelain enamel on steel, medallions measure 42.5" x 36" and 42.5" x 50.5".
Vanowen Bridge Design, 2013, Los Angeles River, San Fernando Valley
Vanowen Street got its name as the main thoroughfare between Van Nuys and Owensmouth (later renamed Canoga Park). The movement from place to place inspires two design motifs—the circle/wheel and the wave. The wave represents the river water ever-flowing beneath the bridge. Circles are powerful symbols found throughout all time and all cultures. They represent the sun, the earth, cycles, seasons, wholeness, community. When a circle becomes a wheel it adds the quality of movement—of time, progress, westward expansion, transportation. The wheels depicted on the bridge tell the history of the area—wagon wheels for settlers, gears for industry, film reels for movie production, tires for suburbia, and bicycle wheels for the new bike paths and energy-saving commuting. Cast concrete, metalwork, bridge measures 5' x 80' x 1'.